Healthy living is about making the right choices on what you put on your plate.
Living a healthy lifestyle is about choices. Each day, millions of people around the world make the choice to eat healthier.  They substitute bright and tasty natural foods for highly processed meals.  One great example of this is using chopped cauliflower instead of rice.  It has the same consistency as rice and a fraction of the calories.
Here are some 21 different plants that you should incorporate into your diet. Not only will this give your body a boost of essential vitamins and minerals but it will add a lot of flavor and variety to a stagnate meal routine.
CRESS
32Kcal per 100 grams
Also known as Garden Cress, it is a peppery tasting plant that is used in soups, sandwiches, and salads to add a tangy flavor. It is high in Iron, vitamin A and C.
APRICOTS
48kcal per 100 grams
This fruit is high in natural sugar, phytoestrogens and antioxidants, including the carotenoid beta-carotene. It is a moderate source of Vitamin A and C.  Most people eat this fruit raw, but it is also phenomenal grilled.  Try roasting this fruit on a grill and tossing it into a salad to add a natural sugary kick.
ROMAINE LETTUCE
17kcal per 100 grams
The fresher the lettuce, the more nutritious it is.  It is a remarkably high source of vitamin A and a source of vitamin C, B-6 and Iron.  It can be chopped up into salads but try using it as a wrap instead.  You can substitute romaine lettuce leaves for your traditional flour-based wrap.
MUSTARD LEAVES
27Kcal per 100 grams
Very peppery with a slight "biting" aftertaste, like a radish.  You can add it to salads or simply sauté it with onions, garlic, and olive oil.  This green leafy vegetable is high in vitamin A and C and is also a source of calcium and vitamin B-6.  It also Contains sinigrin, a chemical thought to protect against inflammation.
Kale
49Kcal per 100 grams
The only exposure many people get to kale, is as decorative garnish around a salad bar on a buffet line.  This leafy plant is high in phosphorous, iron, calcium and vitamin A and C.  Most people eat it in salads but try making Kale chips.  Cut out the stems and pull the leaves into small pieces.  Coat in a small amount of avocado oil and bake till crispy.
BROCCOLI RAAB
22kcal per 100 grams
This plant is related to turnips and should not be confused with broccoli.  It has thinner stems and smaller flowers.  High in vitamin A and C, and K.  It is also a good source of thiamine, folate, and calcium.  Most people sauté this plant with garlic and olive oil.  When you do this, add a bit of lemon juice if you want to mellow out some of its bitterness.
COLLARDS
32kcal per 100 grams
This inexpensive plant is a natural source of vitamin A, C and B-6 and is a good source of calcium.  Because it is tough, fibrous, and chewy when it is raw, it is usually served cooked.  The traditional southern recipe has it coated in bacon grease. However, you can simply cook it using avocado oil over a hot stove.
FROZEN SPINACH
29kcal per 100 grams
Freezing spinach helps preserve the leaves (it seems to spoil so quickly in the fridge) and prevents the nutrients from degrading.  It is high in high in magnesium, folate, vitamin A and the carotenoids beta carotene and zeaxanthin.  Frozen spinach can an extremely healthy addition to everything from smoothies to pizza.
DANDELION GREENS
45kcal per 100 grams
A good source of vitamin A, vitamin C and calcium. The cultivated version has most of the bitterness reduced to a pleasant mildness. However, you can eat the wild version if you know you are getting it from a pesticide/herbicide free area. Packed full of carotenoid and lycopene pigments.
PINK GRAPEFRUIT
42kcal per 100 grams
This citrus fruit is the pink variety of the yellow or orange colored grapefruit. It also will give you a good dose of Vitamin A and C.  If you want something different, try a pink grapefruit and avocado salad.
RED CABBAGE
31kcal per 100 grams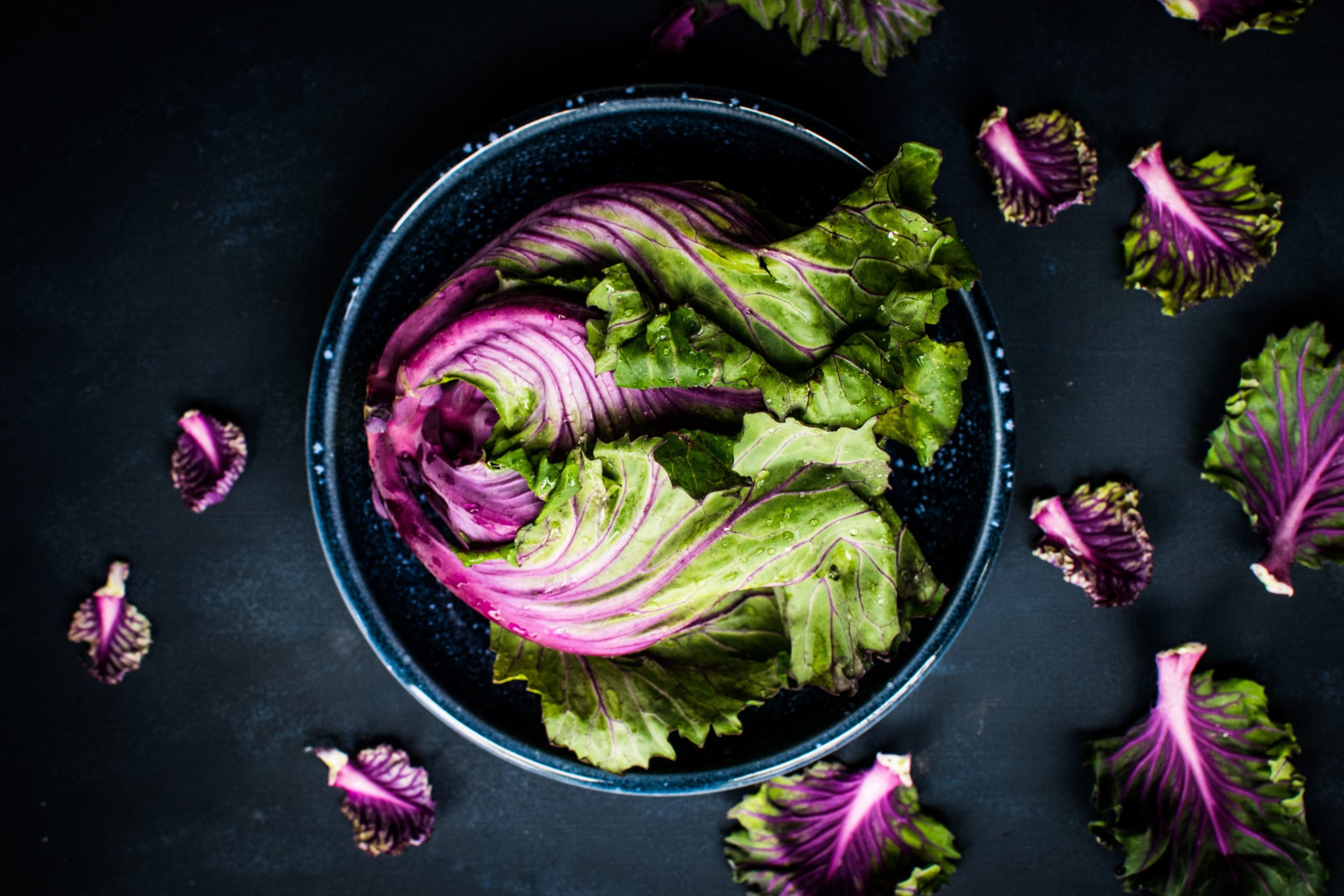 High in protein (12 grams) and vitamin A, C and B-6, calcium, iron and magnesium. This extremely versatile vegetable can be chopped into salads, sauteed, our turned into German sauerkraut.
GREEN ONION
27kcal per 100 grams
One of the best sources of vitamin K and it is also packed with copper, phosphorous and magnesium. You can buy the cultivated ones or for fun, go out and find wild ones.  They are smaller but you get the added pleasure of finding your own food and exploring the great outdoors.
GREEN PEAS
77kcal per 100 grams
Green peas contain high levels of phosphorous, magnesium, iron, zinc, copper, and dietary fiber.  It is also good source of vitamin A, C and B-6.  Green peas are another vegetable that can be used in numerous recipes such as soups, stews, stir fry and in salads.
TANGERINES
53kcal per 100 grams
A sugary citrus fruit that is smaller than an orange.  It is full of vitamin A, C, and B-6.  Besides peeling them and eating them, you can make them into some amazing deserts.  Many people do not know this, but you can also use the peel for teas and candies.
WATERCRESS
11kcal per 100 grams
This is one of the few vegetables that grow in the wild in flowing water.  Most people recognize it from stir fry or other Asian inspired dishes.  It is high in Vitamin A and C.
BEET GREENS
22kcal 100 gram
High in calcium, iron, vitamin B and K.  It is the leaf portion of beets and not many people know that is not only edible but very tasty.  They can be roasted, pureed into soups or chopped into salads.
SWISS CHARD
19kcal per 100 grams
This green leafy plant can be used the exact same way as spinach.  You can put it into soups, salads, stews, or pizza.  It is a rare dietary source of betalains and is also a high source of vitamin A, C, E, K, copper, magnesium, manganese, and Iron.
PUMPKIN SEEDS
559kcal per 100 grams
Most people think of pumpkins as either pies or decorative objects in the fall.  However, these seeds and other seeds of the squash family are one of the richest plant-based sources of iron and manganese. It also has 12g of protein per serving. You can eat them roasted or as toppings for bisques.
CHIA SEEDS
486kcal per 100 grams
To unlock the full nutritional potential, soak the seeds for at least 20 minutes.  One of the best recipes is an overnight 3 ingredient pudding. Easy and simple to make.  Chia Seeds contain high amounts of dietary fiber, over 4g of protein, a-linolenic acid, phenolic acid, calcium, and iron.
CHERIMOYA
75kcal per 100 grams
Full of natural sugar and high in vitamins C, B-6 and potassium. It also has almost 4g of protein per serving. Because it has a texture that is similar to custard, cherimoya is also known as a custard apple.  You can eat it with a spoon (do not eat the seeds), add it to souffles, milk shakes, smoothies, or puddings.
ALMONDS
579Kcal per 100 grams
Most people eat almonds right from the shell but try tossing them on salads or as a bisque topping.  It is also a great snack to take with you to satisfy cravings on the go.  They are high in fiber, protein (6g), vitamin E, manganese, magnesium and a good amount of copper, vitamin b2 and phosphorus.
Have a favorite recipe you want to submit using one the 21 listed foods?  Drop us a line, we would love to share it.
Featured Photo by Monika Grabkowska