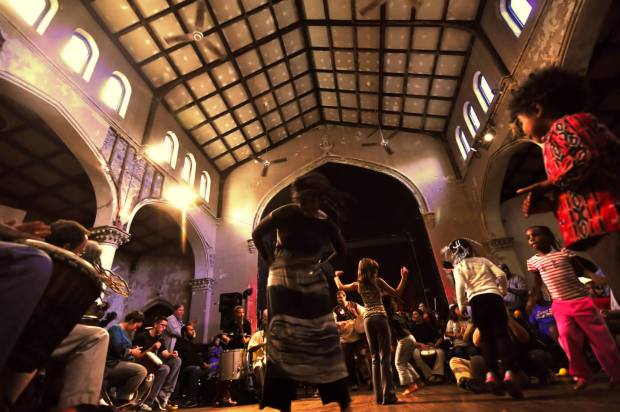 Baltimore Rhytm Festival: A Spirited Day Celebrating the Power of Rhythm and Community in Baltimore City
This year's Baltimore Rhythm Festival features internationally celebrated musicians and dancers, great local bands and troupes, and a new, larger site in the heart of Baltimore at Lovely Lane Church. The festival welcomes all to celebrate peace through music, and creates space to be inspired, to learn, to participate, and to share. October 3, 2015, outside on 23rd Street between St. Paul & N. Lovegrove Streets, and in front of the Baltimore Lab School, inside of Lovely Lane Church, at 2200 St Paul St, Baltimore, MD 21218. To visit the FaceBook page, click here.
The Free Festival
Outside: Get your groove on at the outdoor stage, featuring Capoeira, 3(!!!) Samba bands, Japanese Taiko, Puerto Rico's Plena, and beloved leader of the women's drumming community Ubaka Hill. Join in a spontaneous jam, or share your talents in the Performance Circle. Visit our vendors and purchase a drum, clothes and jewelry, and eat tasty, healthy food. Children are warmly welcomed with hands on activities and crafts.
Inside: The Lovely Lane Hall offers an afternoon line up with local favorites The War and Treaty, Frame Drummer Maestro Scott Robinson, The Bridge Ensemble, Devi Dance Theater, and capped with legendary Baltimore African dance troupe Sankofa. Take a dance or music workshop with such masters as Baile McKnight, Tammi Hessen, Wes Crawford, Jaqui MacMillen, Daveed Korup, and Jihan Von Hendricks, chill and recharge with DJ Jonathan Fell playing the best cuts and hosting an open mic for spoken word poets, singers, and performers of all kinds.
The Evening Concert
Direct descendent and contemporary virtuoso of the venerable, enduring African Mande Griot tradition, Amadou Kouyate begins the evening with the unforgettable beauty of his Kora. Dancers from Footworks Percussive Dance Ensemble electrify with their intricate, rhythmic footwork rooted in southern Appalachian style. Urban Foli returns to share another stunning performance with us. The evening and Festival concludes with the lilting, danceable Afrobeat of Elikeh. Tickets for the evening concert are $15, $10 for children and students, and are available by visiting our website or through Brown Paper Tickets.
About the Baltimore Rhythm Festival
The Baltimore Rhythm Festival (BRF) is an all-volunteer community undertaking supported by the fiscal sponsorship of 501(c)3 Strong City Baltimore. The BRF revives and renews the tradition of the beloved and iconic Baltimore International Rhythm Festival. Committed to inclusion, respect, and the healing power of music to foster peace and good will, the BRF values the full range of rhythm based performance. BRF works to deepen and broaden opportunities and connections between and within the diverse communities in the Baltimore region who value the collective human experience of rhythm. The BRF is proud to have received support for this event from the Maryland State Arts Council Touring Grant Program, and from the Baltimore Office of Promotion and the Arts through its Freefall Baltimore program, of which the free afternoon festival is a part.
Baltimore Rhythm Festival

3503 N. Charles Street, Baltimore MD 21218 www.baltimorerhythmfestival.org / E-Mail: bmorerhythmfest@gmail.com