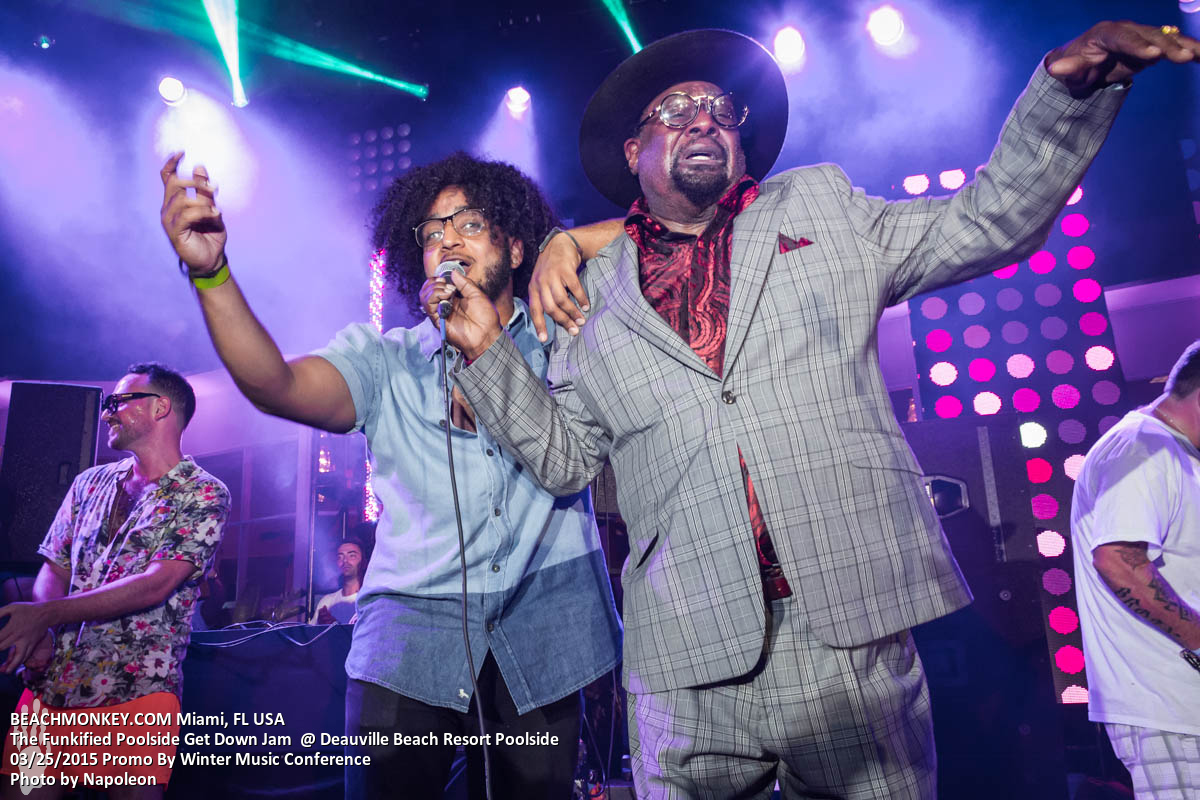 There is nothing like heading to Miami for the Winter Music Conference every March. This year was the thirtieth anniversary, and the WMC staff outdid themselves to commemorate the milestone. Here are some highlights from the conference and the International Dance Music Awards (IDMA). Photo: Napoleon Michaels
Favorite Moments
George Clinton onstage with Louie Vega. They performed their newest collaboration, Vega's remix of "Ain't That Funkin' Kind of Hard on You." After all these years, P-Funk still got it.
Soul Clap living up to their name. DJs Elyte and Cryce, the duo that make up Soul Clap, performed after P-Funk left the stage (Ccyce did a stint as backup singer for George Clinton just minutes before). And, as their name suggests, they clapped along as they spun their set.
Martin Garrix with a black eye. He was involved in a boating mishap before his WMC Q&A session, but did not use his injury as an excuse to punk out on his obligations to his fans.
DJ Lee Dagger of Bimbo Jones spinning the IDMA opening set. Dagger brought his trademark high energy, setting the pace for a great evening. And the fact that the weather cooperated with the outdoor event – 24 hours later, torrential downpours set in for most of the evening.
Hardwell sitting with his crew during the IDMA. He did not sequester himself away from the general public in VIP.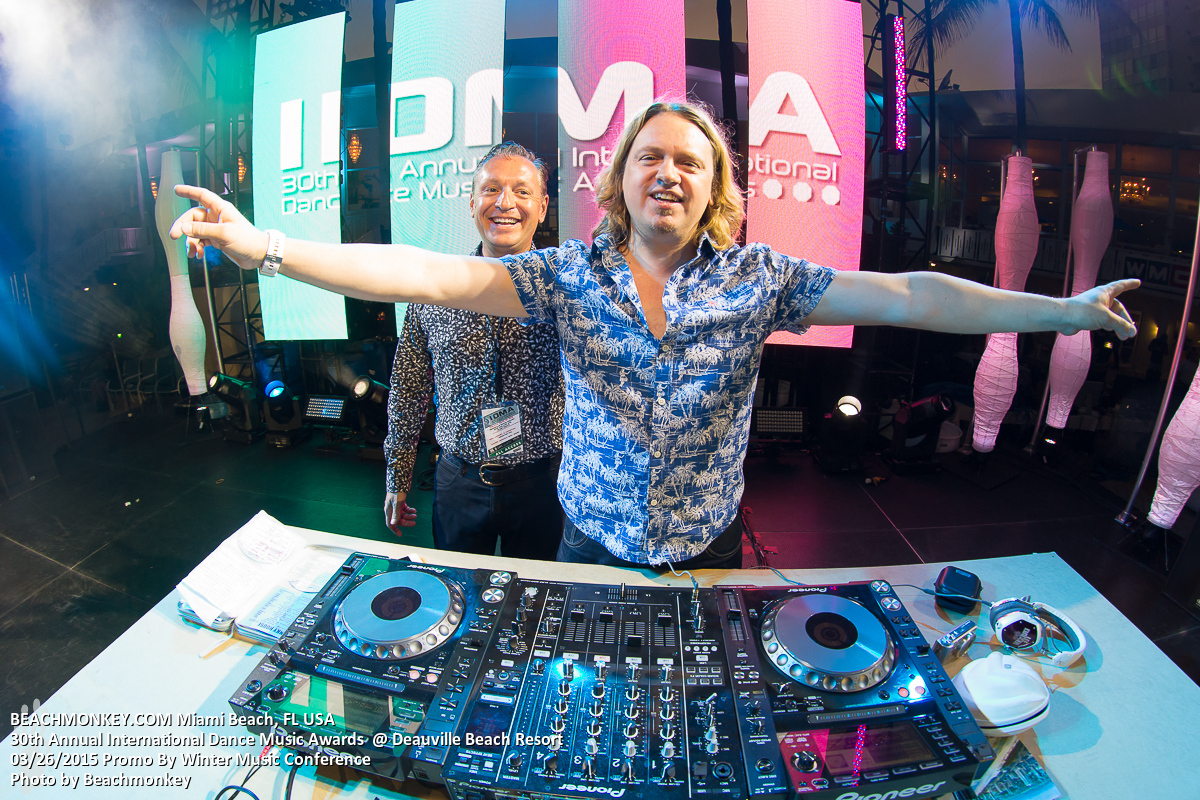 Lee Dagger, with James Brown behind him. Photo: Beachmonkey
The IDMA tribute to Frankie Knuckles. David Morales, Judy Weinstein, and other luminaries paid a moving tribute to the Godfather of House, who had died a year ago, only a few days after his performance during WMC 2014.
Nicky Romero giving a shout-out to women in the business. When a young woman who identified herself as a producer asked him a question during his WMC Q&A, he said, "First I'm happy that there are some female producers out there." Hopefully, women in every niche of EDM will become so commonplace, such a statement will be unnecessary.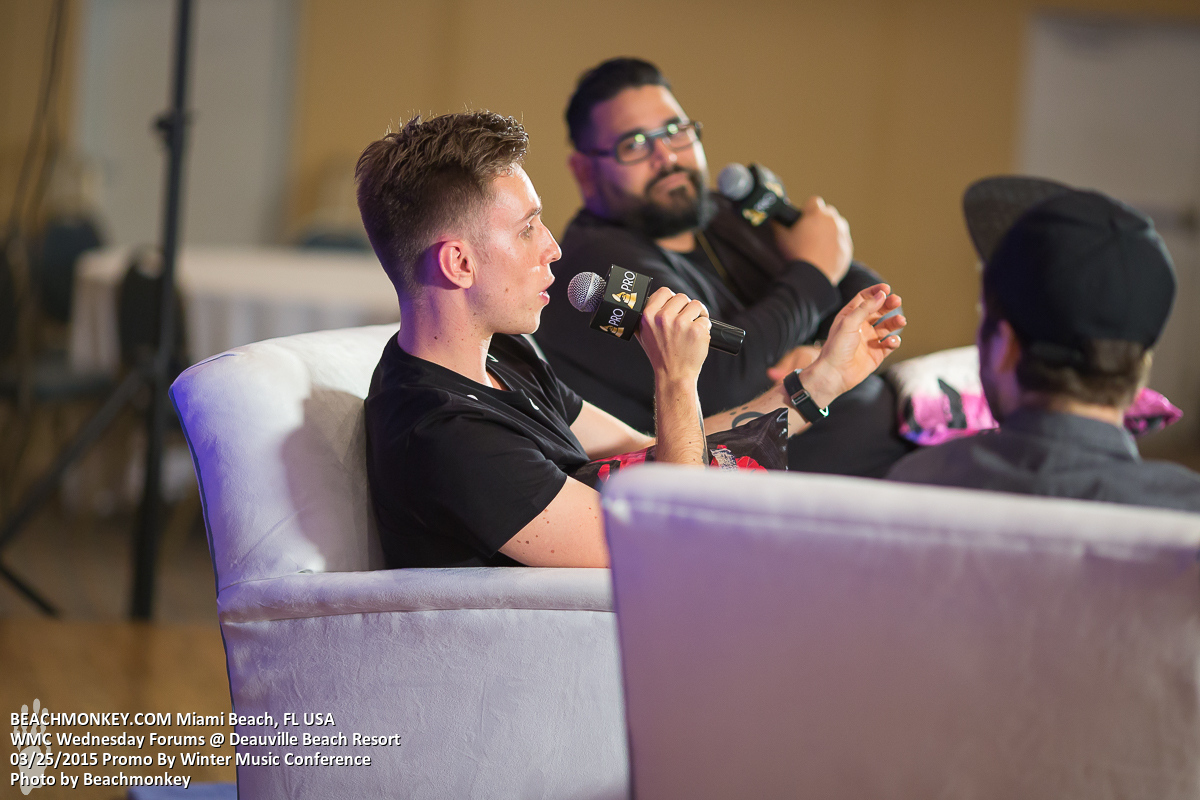 Nicky Romero and Junior Sanchez. Photo: Beachmonkey
Discussing the Paris Hilton-Pauly D Heresy. During the forum on live music in EDM, DJ Adam Sikora of Equanimous Minds said Paris and Pauly expose "the split between pop culture and [real] music." He then asked potential superstars, "Do you want to be a faux DJ and it's a one-shot, or do you want to be an artist?"
DJ Xenia Ghali's advice concerning style: "Don't try so hard," advised DJ Xenia Ghali during the forum on fashion and EDM (Pauly D was ruled an epic fail), although she did recognize that Lady Gaga's meat dress did actually work – for Lady Gaga.
Favorite Quotes
"Oh, women don't do that." What DJ Tracy Young was told when she first interviewed for a job as a radio DJ. Also, "Be Difficult," advice given by recording artist Jei to women if men decide to take advantage of them (panel on women in EDM).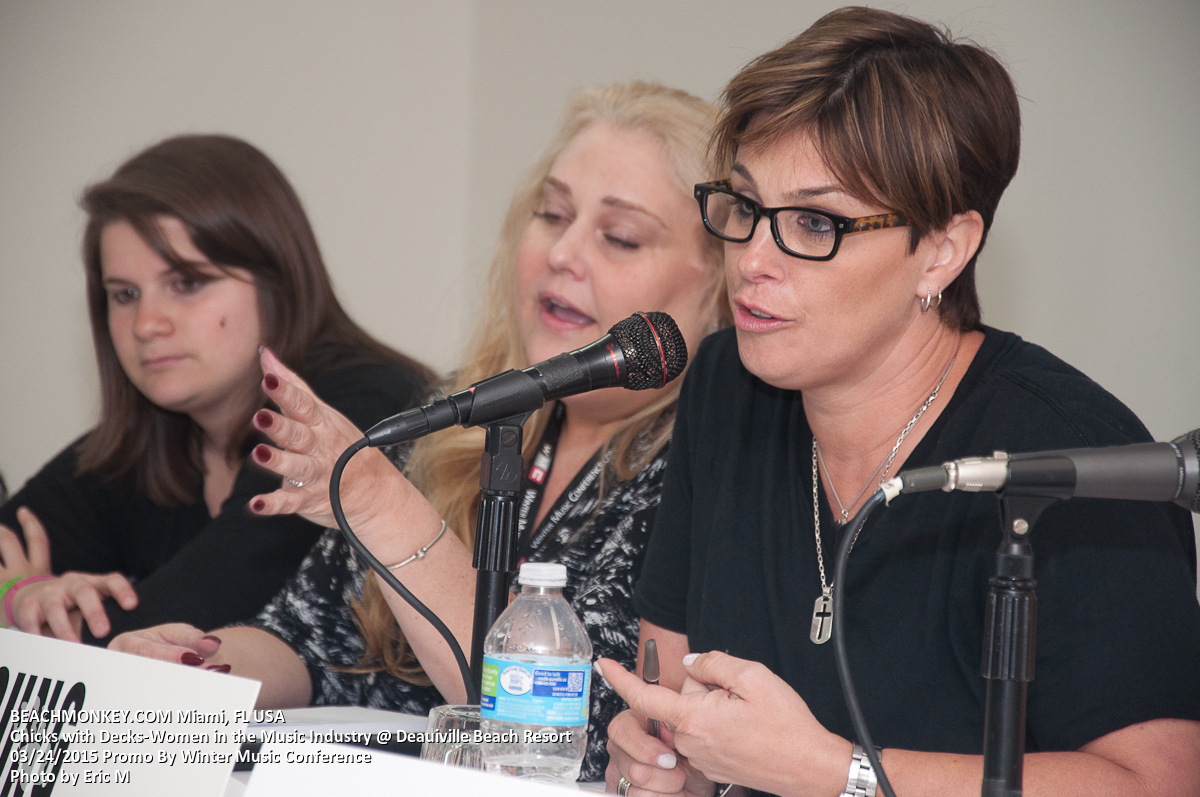 Tracy Young (right), with Stacy Taylor and Kiera Miller (right to left). Photo: Eric Milbourne
"Geekness." A quality that manager Rod Carrillo said is something that EDM artists should have (Beachmonkey exclusive interview – article coming soon!).
"I'm open to anything. Send me your song." Sander Kleinenberg to an artist complaining that nobody would give her a break (Q&A on Global DJs).
"Some motherfuckers deserve getting knocked out." Todd Terry, referring to shady people in the EDM industry. (Q&A on Global DJs)
"I was ten when I got my first turntables." Twelve-year-old DJ Alex Ariete, who made his WMC debut on the pool deck stage in the Deauville Hotel (Beachmonkey exclusive interview).
"I started singing at three." Kenny Bobien, Godfather of Gospel house music (panel on musical integrity, moderated by Barbara Tucker).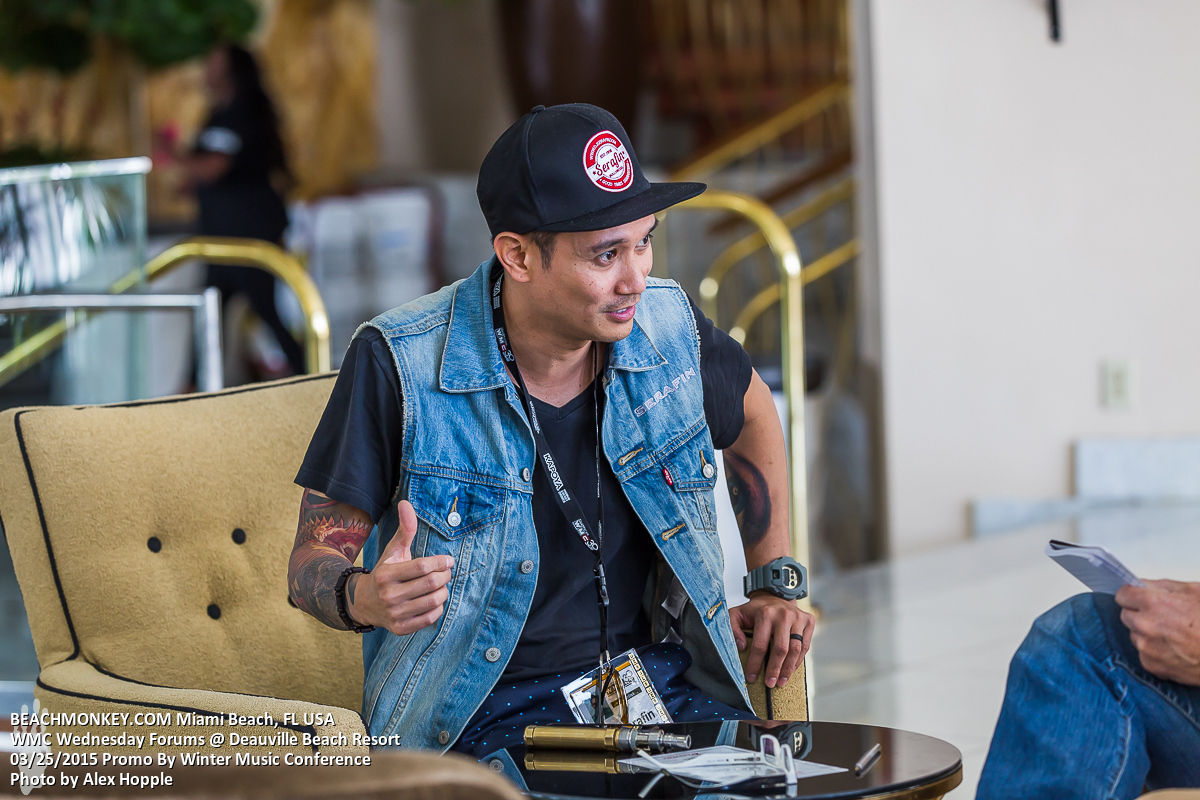 Seraphin. Photo: Alex Hopple
"Jésus Jeremy Ponciano Serafin Jimenez." DJ Serafin's full name (Beachmonkey exclusive interview, now available for viewing).
"I don't give a shit about BeatPort. It's not real." Starkillers/Nick Terranova, who has made it to Number One on BeatPort multiple times (Beachmonkey exclusive interview).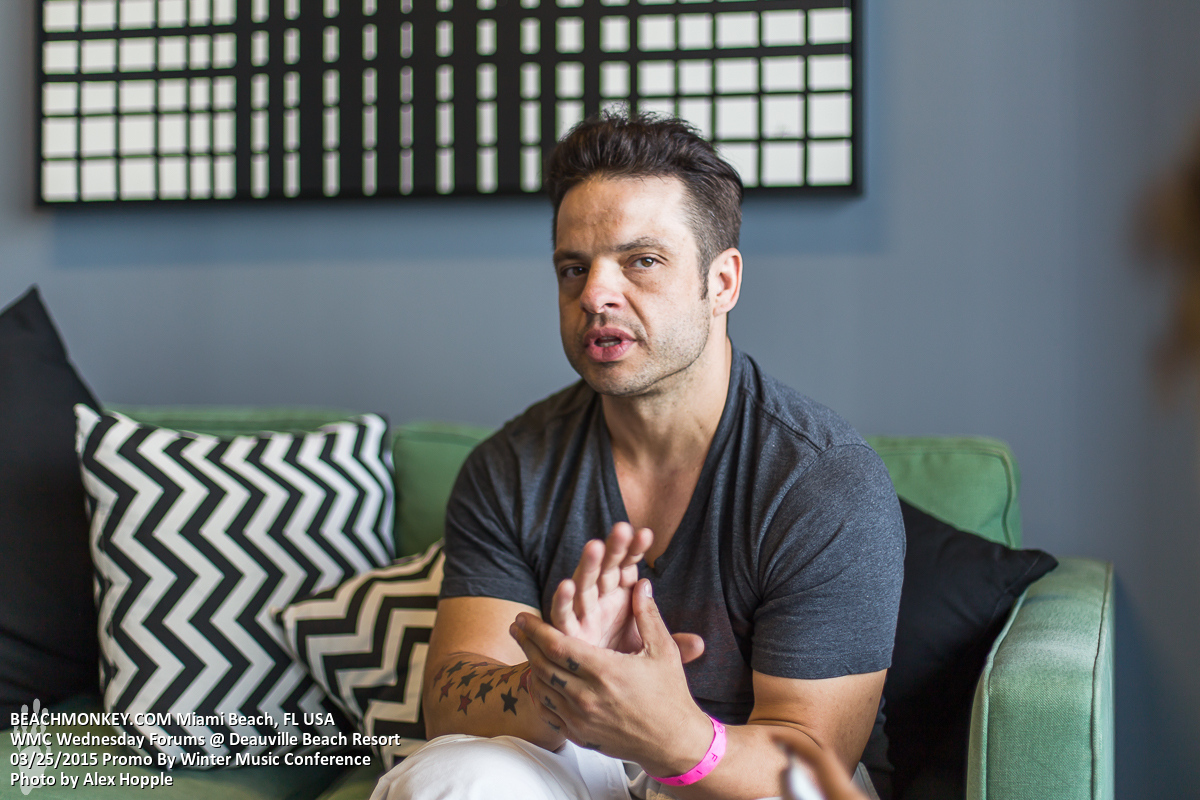 Starkillers. Photo: Alex Hopple
"South Africa is the New York of Africa." DJ Euphonik on how South Africa sets the trends for EDM coming out of Africa (Beachmonkey interview).
Coming soon: Beachmonkey's All-Star Photographers tell us their "Best Of"!