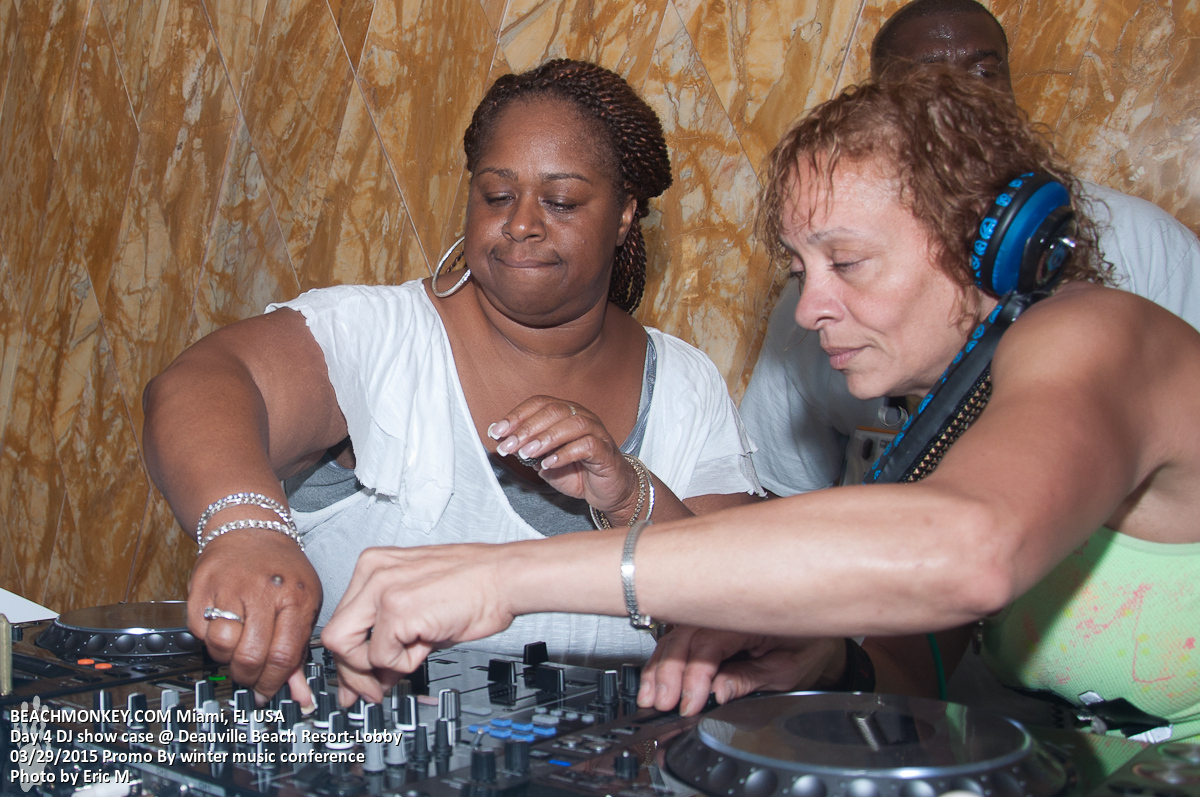 In an interview that Starkillers did for Beachmonkey, Nick Terranova said he would rather make hips sway side-to-side than fists pump in the air. He made an interesting point: some DJs make a crowd go vertical, while others inspire horizontal movement. much of it has to do with the type of music, the expectations of the crowd, and how each person is inspired to move.
Photo: Eric Milbourne
At gigs with thousands of participants, space may dictate what can be done. The crowd in front of a major EDM star cannot move side to side because they are packed like sardines. The only way to move is up and down while pumping one fist in the air (or both, if so inspired). Some DJs have even made careers of this move, in hopes perhaps that fist-pumping could make up for whatever might be missing with regards to talent.


Photo: Diana Zalucky/Disney via Getty Images
And for those who think it is more important to record the event than to live it, the best option is to stand still and be a good slave in service to one's iPhone.
In large venues for big-draw DJs, those who want to dance will remove themselves (if possible) from the seething vertical-moving mass so they have more room to dance up a storm. Typically, however, EDM does not inspire hip-swaying, especially not in men – the legs may kick about and arms may thrash, but not a lot of wiggle in the money-maker.
Walking down Collins or Washington in SOBE during WMC, one encounters a hip crowd, both literally and figuratively. Different parties are held in more intimate venues, all the while rolling the beat onto the sidewalk as passersby get a taste of what is happening inside. A slew of parties go for a deep house vibe: Are You Afro?, Afrique Electronique, For the Love of House.
These parties are where beats are served hot and sexy by DJs who feel what they play, such as Rocky Floyd…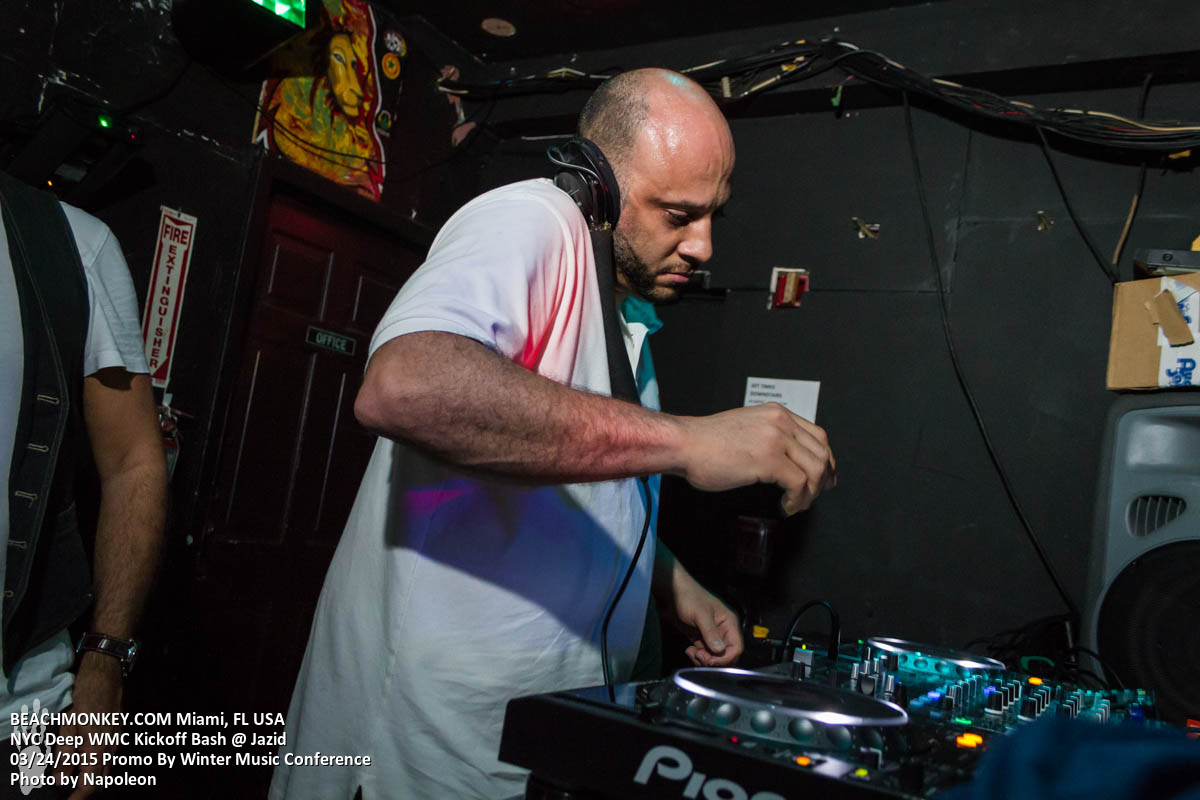 Photo: Napoleon
and Cheryl Brockington (DJ CBreeze), who was also rocking her T-shirt that says,
Not everyone understands house music

It's a spiritual thing

It's a body thing

It's a soul thing


Photo: Eric Milbourne
And a whole lotta hip-shaking going on when DJs Patti, Dat Gurl Curly, Savoy, and DJ Jigsaw teamed up at the Deauville Hotel during WMC: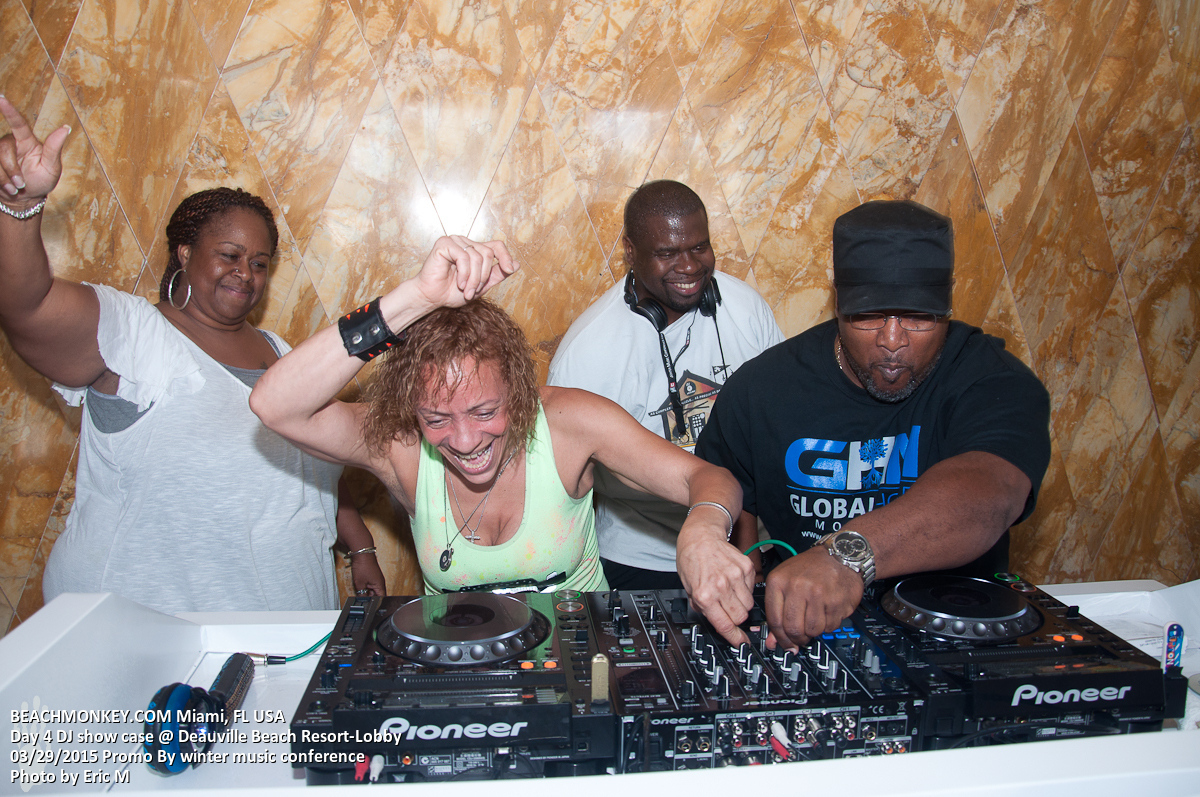 Photo: Eric Milbourne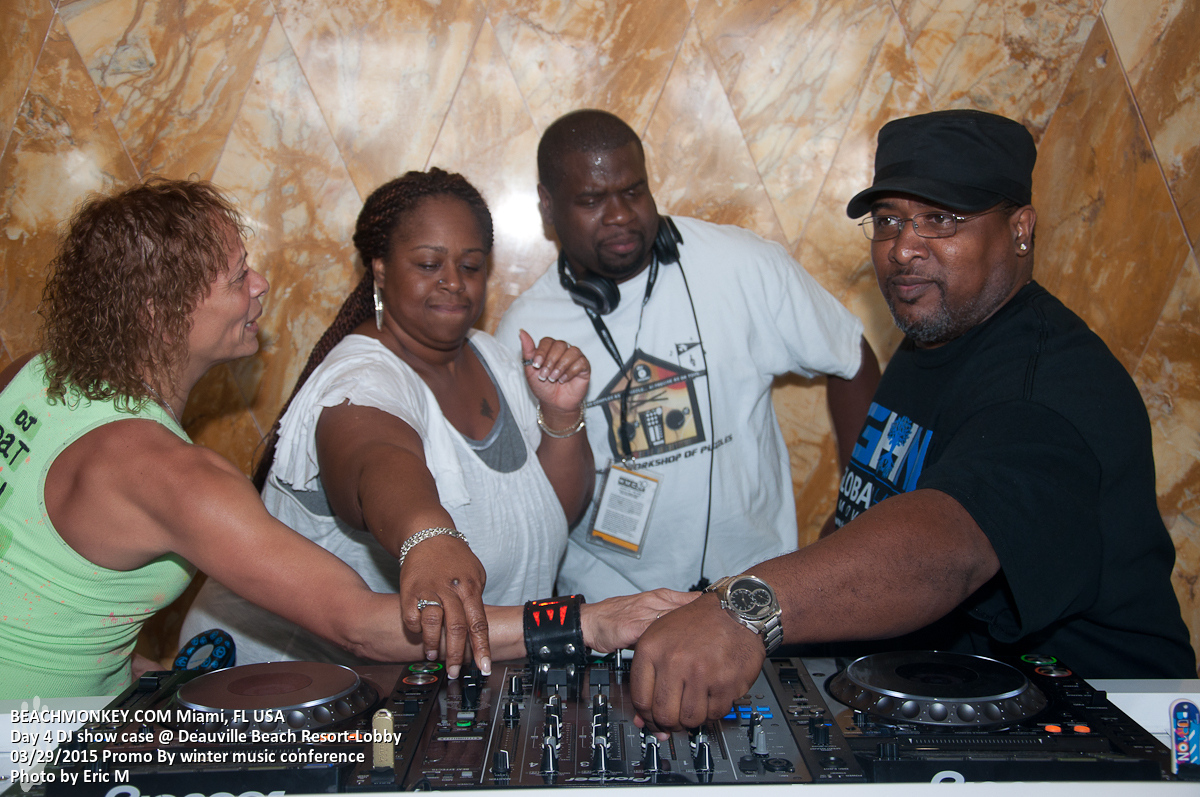 photo: Eric Milbourne
These DJs caused a bit of commotion in the Deauville lobby. People stopped in their tracks to listen, take pictures, shoot video, and even (gasp) dance that morning, right alongside the regular villagers who were in the process of checking into and checking out of the hotel. It was a non-mollified, non-alcohol-fueled happening.
There is absolutely nothing wrong with fist-pumping – I've done it myself. But I can't make an evening of it. The music must make its way into my hips or i will find something else to do.