Theoretically, EDM (electronic dance music) includes all kinds of musical styles from around the world. But not all styles are created equal.
Take the categories for the International Dance Music Awards (IDMA) held during the Winter Music Conference (WMC) in Miami. Some genres are recognized: minimal, progressive, trance, hip-hop. Others are amalgamations of more than one style: Latin, commercial, house/deep house/garage, dubstep/DnB. Some have yet to be recognized: trap, moombahton, Afro-deep, Circuit. As anyone familiar with electronic dance music (EDM) knows, these genres do not have clean lines between them. One multi-genre phenomenon, DJ-live musician fusion, has been getting increasingly popular but does not have its own award-winning category.
Attempts to classify groups and songs within categories based on genre is tricky business, an effort that will not satisfy everyone, but must be done if the IDMA is to mean anything. An increase in recognized genres is becoming more urgent every year – categories should be expanded to include India's bhangra, Korean K-pop, Japanese J-pop, Arabesque Turkish, Brazilian funk carioca/tecno brega/sambass and a slew of other forms arising from the collision of DJ culture, fashion and local variations around the world.
So much is happening, but so little is making its way into WMC – even less into the super-slick productions of the Ultra Music Festival. One reason is due to a backlog of established styles that draw massive crowds, leaving little room for better representation of what is actually happening in the world of EDM.
Three Logjams
When people arrive for WMC/Ultra, they have three options: the massive Ultra festival that coincides with the last weekend of WMC, major DJs performing in the big SOBE and downtown nightclubs, and the thousands of DJs performing in smaller hotel venues all over Lincoln and Ocean Drive.
For the PLUR (Peace, Love, Unity, Respect) raver crowd, Ultra is a major draw. This gathering of multi-genre performers and stunning visual effects makes for a true massive, but does little in terms of educating its day-glow-clad constituents about the breadth and width of EDM. The crowd and entertainment are indeed international in origin, but entertainment is severely limited genre-wise to the narrow outlines of big-name artists. Participants may or may not dance well, may or may not puke, but are overflowing with youthful vitality.
For the flashy crowd with too much money, there are the Miami mega-clubs such as Space, Cameo, Mansion and the latest flavor of the season. Bottle service, overpriced admission and many of the big names seen at Ultra mark this logjam as the place for the doucherati to gather with honest house-heads, cheek to jowl, their wallets busted by smiling, big-breasted women parading overpriced vodka bottles lit with cheesy sparklers. The overall ambience is an S&M (Stand & Model) crowd, packed in like sardines so that all they can do is jump up and down vertically and fist-pump, just like the messes on Jersey Shore that too many of them emulate.
For those who prefer dancing to bouncing, smaller venues and boutique hotels offer a range of sounds from Circuit to electro to trance to generic house to a smattering of dubstep/DnB. The prevalent sound is deep house in all its soulful glory. Legends such as Little Louie and Osunlade can be found checking out up-and-coming DJs in parties sponsored by Brooklyn and Chicago promoters. More and more women are finding their way to the DJ booths in these venues, breaking the grip of male domination, often with the blessing of men such as Vega and Jellybean. This is also where South Africans have established a well earned stronghold in EDM, generating their own male superstars: Black Coffee, Fresh and Euphonik, Culoe de Song, Shimza and a rising female star, Shejay Zandy. Sets often feature live drumming, horns, and vocals.
As mentioned earlier, India is missing, as is Korea, Turkey and other spots that have produced their own genres of EDM. For the first time in 2013, I saw a party sponsored by Brazilians that actually played Brazilian EDM rather than the generic house found in Ultra. This does not mean, of course, that other such Brazilian parties did not exist, only that they were rare enough that a fan of musica brasileira such as myself had not found one previously in 7 years of covering WMC.
I heard very little trap, and not a peep of moombahton. Doesn't mean these genres weren't there – just that they have yet to surface as legit.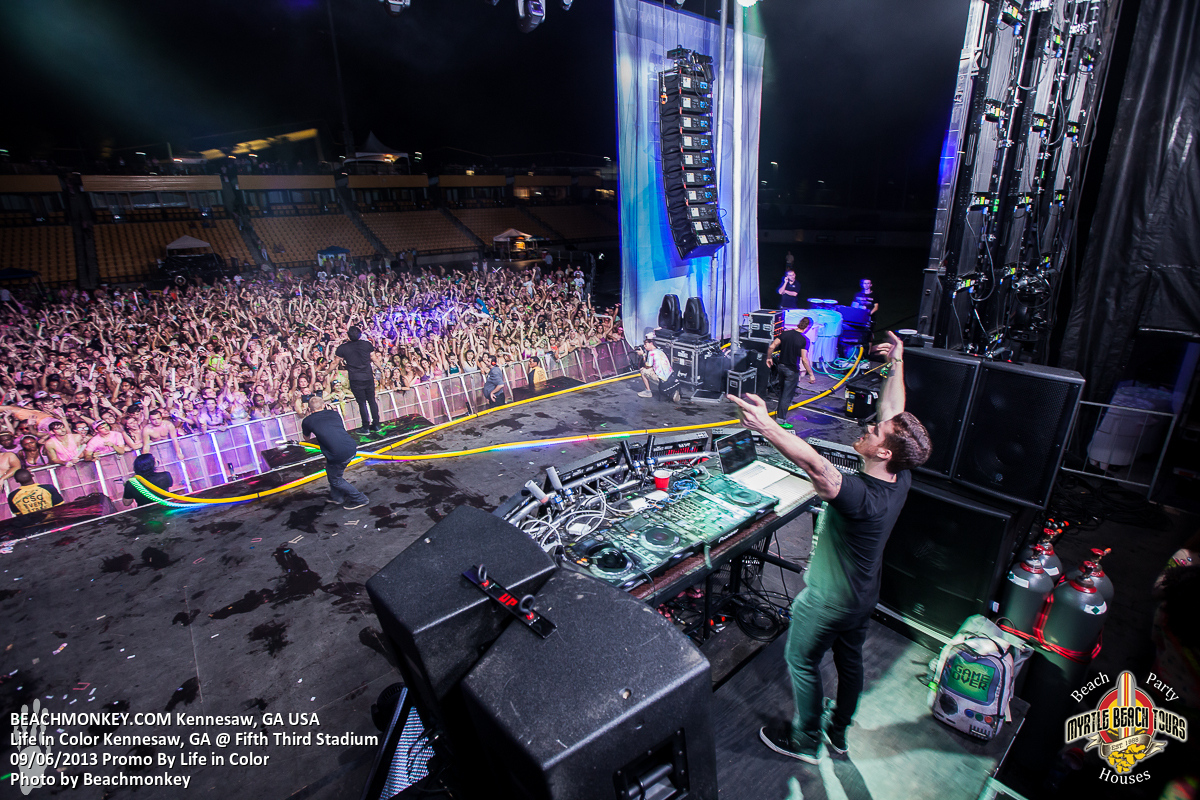 UDM
Lovers of dance music often differentiate EDM from UDM (underground dance music). EDM is a commercially prostitutable phenomenon, while UDM resists the hype that has created such abominations as DJs Pauly D and Paris Hilton.
Some genres start out as whorish, yet they may not be EDM. Witness the slick packaging of K-pop with its interchangeable vocalists and formulaic melody-synth-rap formats. But K-pop has its charm, and the movement is not without its genuine superstars. As such, they deserve at least a nod in the whirlwind of WMC events. Since K-pop is nowhere to be seen during the conference, it may legitimately be considered underground (and please do not bring up "Gangnam Style" – Psy has contributed much better songs to the world's musical pallet). Even Armin Van Buuren has his UDM moments.
So who is not underground? Any artist whose reputation depends of a remix for Madonna or Beyoncé. Anyone who has a pop-up hotel in SOBE named after him (Hi Avicii!). Anyone whose fame still hinges on a technicolor mouse-head. This does not necessarily imply lack of talent on the part of Avicii or deadmau5. During his WMC panel, Nile Rodgers described what a pleasure it was to work with Avicii, something Nile would not have said about a no-talent prettyboy. Nevertheless, the Avicii Hotel on 12th and Collins during WMC/Ultra 2013 means that any underground cred Avicii may have had has been shot to Hell.
Some people continue to have underground status as well as fame and (hopefully) a degree of fortune. DJ T from Germany, the Circuit's DJ Grind, Chicago's Felix da Housecat, the aforementioned Louie Vega, Body & Soul's Danny Krivit, the unstoppable Barbara Tucker, Miguel Migs and Lisa Shaw, Black Coffee and his intercultural Deep South tribe have credibility because of their approachability, their willingness to hang out with everyday people, their support of new talent and love of experiment.
And to be honest, they all make music for side-to-side hip-swinging (UDM), not vertical fist-pumping (EDM).