Proof that nothing is sacred has appeared once more in the form of a fairly recent abomination, the Celebrity DJ, in Ibiza.
True house-heads everywhere petitioned Heaven for an end to the Celebrity DJ plague, ever since that unspeakable horror Pauly D crawled from the pits of Hell to enthrone itself in the DJ booth. Unfortunately, the pleas of the righteous have been for naught. The flesh-eating zombie known as Paris Hilton has returned to the club scene to press some buttons and act like she knows what she's doing. Amnesia nightclub will suffer double humiliation as her summer residency, and as a retail store for her WalMart-at-Gucci-prices merchandise.
From the Amnesia website:
Hilton will be heading to Ibiza this summer to perform as a resident DJ and launch a series of pop-up stores featuring her namesake line of fashionable handbags and accessories. Hilton's ventures are in association with Amnesia Ibiza, multi-winner of the 'Best Global Club' accolade at the International Dance Music Awards and a point of reference for the coveted Ibiza lifestyle.
The two lifestyle industry moguls have come together in a joint venture to create an iconic hub for glamor in Europe this summer.
With the release of her sophomore album just around the corner, Hilton will be the celebrity DJ hosting Foam & Diamonds, Amnesia Ibiza's iconic foam party. 'Foam & Diamonds hosted by Paris Hilton' and 'Paris Hilton Pop-Up Stores' at Amnesia will premiere on July 31st and will boast Hilton as the official host for four weeks. The club's Main Room and stores will bring Hilton's iconic universe to life through her signature style decor.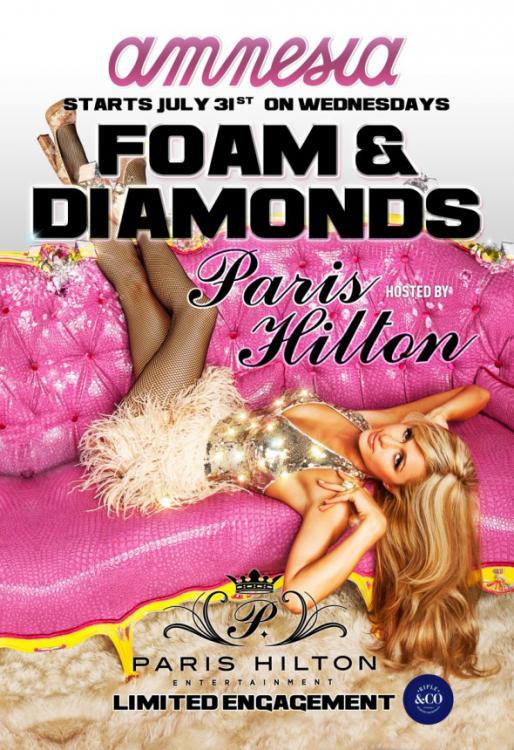 Pray, saints. Pray.