Mika Newton: Blessings of the Hard Life
By Mickey Weems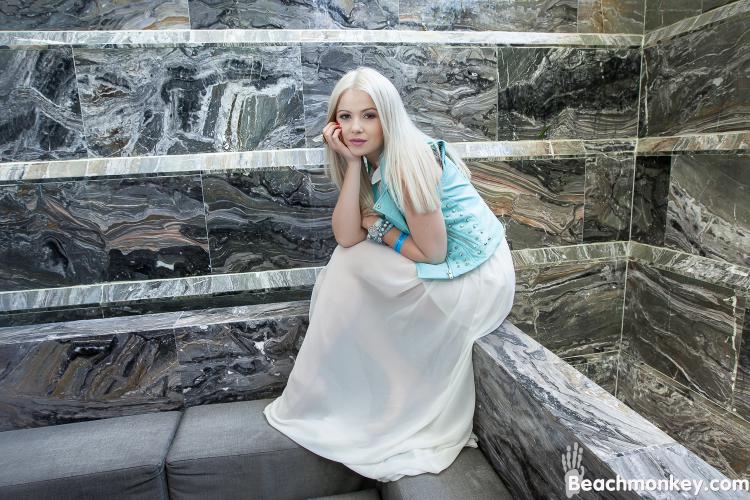 The road to stardom in electronic dance music leads to Los Angeles. For Mika Newton, that journey began in Ukraine.
Not all Ukrainian stars have shone over LA. Two big names come to mind that have gained international fame without relocating to the USA: the fabulous Verka Serduchka and the boy-band Kazaky.
Now there is a third Ukrainian, and like Verka and Kazaky, she chose a new name. Oksana Stefanivna Hrytsay became Mika Newton, a sensation in both movies and song. But her star had risen as high as it could in her native land. Unlike Verka and Kazaky, Mika chose not to stay in Kiev. The only way to go was west to the California coast, then a quick backtrack east to Miami for the Winter Music Conference, the annual gathering of industry people from around the world, and a meeting with me.
We met in South Beach for an interview arranged by Catherine Carter of Funky Dumpling. In the plush setting of the W Hotel, we sat in comparative privacy as people in various states of formalwear and undress went in and out of an exclusive pool party happening at the same time.
Mika threw me off initially when I heard her speak – the accent was British with slight undertones of another language. She is undergoing a crash course on how to be an international celebrity, and she learns quickly. Direct, intelligent, with an almost otherworldly beauty, she has settled into a life that sends her back and forth from the USA to Ukraine and to points in between.
Star Rise
Before she was Mika, Oksana was an anomaly in her family in that there was no emphasis on music as a vocational option. She knew at the age of five that she wanted to perform, but nobody paid attention to her in her Western Ukrainian hometown of Bushten until she was nine. Her voice got the attention of musician Igor Ivantsiv. By the time Mika was 13, her star began its rapid ascent.
Mika got into the renowned Circus and Variety College in Kiev, and began working with producer Yuriy Falesa. Eventually she moved on to Timofey Nagorniy and she took fourth place in the coveted Eurovision 2011 contest. That was the impetus for her to move to America and work with American Idol's Randy Jacksonand JK Music Group's Julia Kurbatova and Oleg Shmelev, Mika's current producers.
To Live and Thrive in LA
She made LA her home, but keeps her heart with her people in Ukraine. "I try to share California sunshine with my Ukrainian friends," she said, describing the wrenching experience of flying back to the mother country for a two-day visit, basically spending as much time in transition as she does on the ground since flights from SoCal to Kiev can be 20-hour voyages. To help her maintain inner stability in a lifestyle of such turbulence, she has Mozart, her white Labrador retriever from Tennessee.
The other challenges she faces are in common with anyone in the music industry, such as pleasing her fans. "It's a little step from love to hate," she said about her audiences, especially when it comes to changing her performance. She realizes her own limitations on what she can do as Mika, and she strives to keep her sound fresh without unnecessarily disrupting the expectations of her fans: "You're like a fish in the water. You cannot change the flow of the water."
Although we discussed some difficulties in her life, Mika did not complain about anything when I interviewed her. This life is the fulfillment of a dream she had since she was five. There is further compensation in that she can see so many different people in so many circumstances. For Mika, this is a real treat because "I'm like a psychologist – I love to observe." In turn, her observations help her shape her image and music.
As tough as her schedule may be, as uprooted as she might feel, the increasing visibility of her star as she performs her latest hit, "Come Out and Play" (which is also out as a Paul Oakenfold remix) in Miami is exactly what she wants. "Every morning I thank God for this hard life."