Review of "Peaches Does Herself" (warning, not suitable for viewing at work)
By Mickey Weems
Peaches Does Herself is a movie that takes the raunch of Rocky Horror Picture Show to another level. Peaches is an underground performance artist from Toronto who lives in Berlin and idolizes Wendy O. Her auto-do-ographical film is a bare-bones production featuring a series of vignettes on stage, all set to live music with Peaches as the primary vocalist.
And music was what made this movie worth watching: hard-hitting beats, basic chords and aggressive sounds that made me wish I were seeing the whole thing live so I could dance.
Casting for Peaches Does Herself could easily have been done by SNL's Stefan: "If you are looking for clean, upstanding family fun, look no further. This performance has it all! Cloth-covered humanoids crawling out of a big vagina, dancers with reflective balls, more dry-humping than a Mad Clams party thrown by Kim Foxman, a leatherette on a bicycle, a German-speaking professor"… and the list goes on.
The downfall of the movie is its obsession with cheap soft porn stunts. 20 seconds watching a tired woman (the Naked Cowgirl) shake her tits, wave a dildo and sing about dick up the ass is about all that should have been allowed in any one scene. Yawn.
On the other (non-dildo-waving) hand, Peaches is an engaging entertainer, a genius in matching set with costume and music. The storyline was fast and loose and shiny and absurd and for the most part energetic until the latter fourth of the movie. I could forgive being bored during the end because I was intrigued the majority of the time. Overall, Peaches Does Herself is worth watching, but don't be afraid to get up and use the bathroom when the pace grinds to a slow crawl.
Congratulations to Peaches and the cast, including the Fatherfucker Dancers and the beautiful Danni Daniels, a visually provocative human being who steals the show in the midst of bloody vomit, self-mutilation and inverted nipples.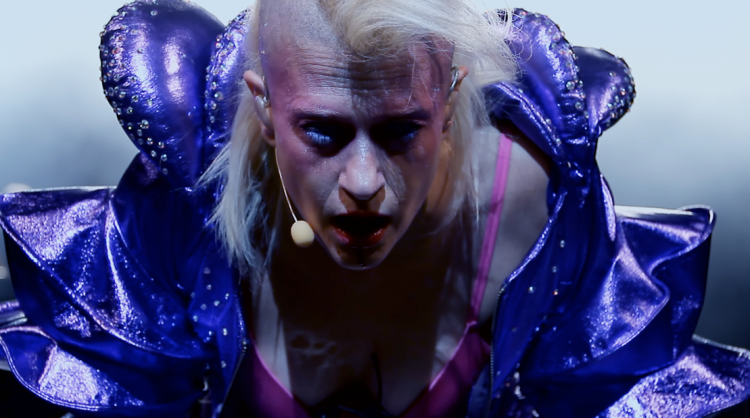 Courtesy of peachesdoesherself.com