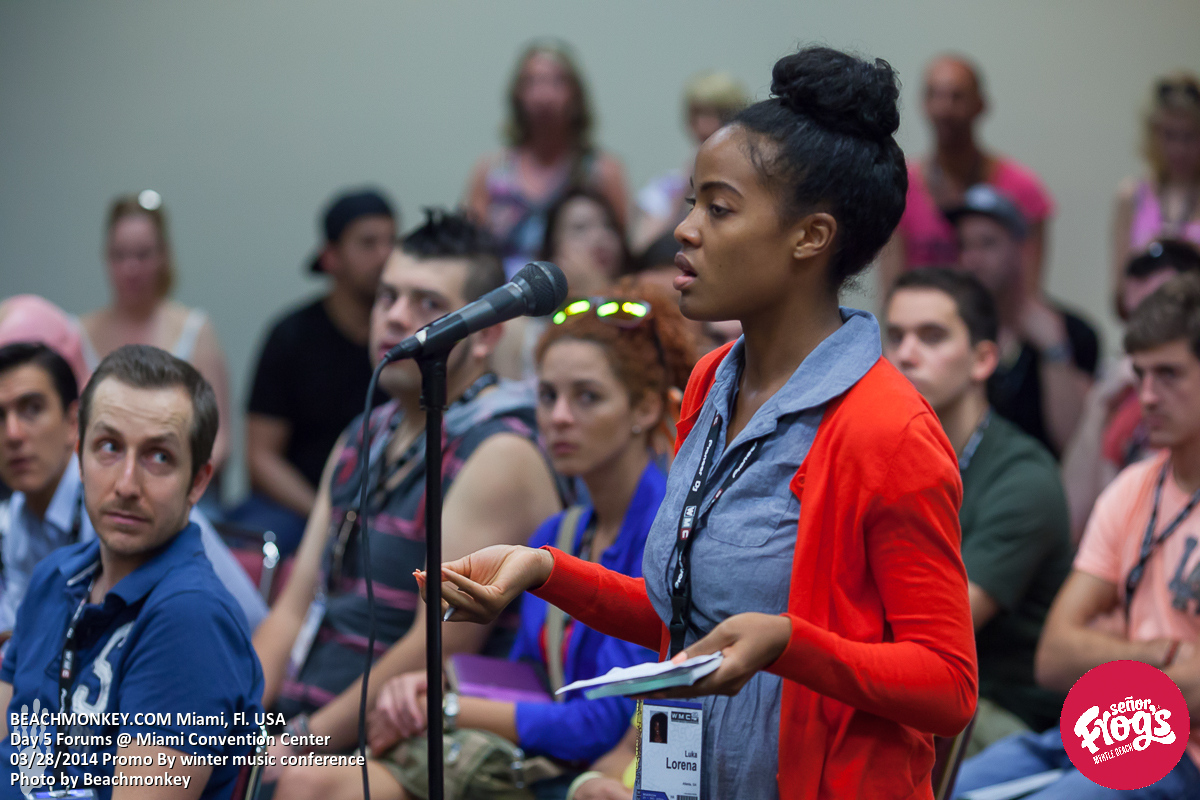 WMC's panels give attendees the chance to meet the top people in the EDM world. Topics run from technical to the cultural, but many panels deal with issues of importance to recording artists and DJs (and those who are both). Here is a quick list of what DJs, including general radio and college radio DJs, might enjoy this year. But take this article as a teaser – there are many more panels that may be of interest.
Don't be surprised if two must-see panels overlap. Experienced WMC pilgrims know that the week is full of delicious agony, when one must choose between multiple options. So place your bets….

To see the entire list, click here.
Tuesday, March 24
12:30 PM – Kiss My App!

This panel of professionals will explore the innovative ways in which artists and technology are working together to engage fans and promote music.
2:00 PM – Chicks With Decks – Women in the Music Industry

This panel explores the rapid advancement of women innovators in the traditionally male-dominated world of the dance music industry.
4:30 PM – DJ Workshop 101: The Fundamentals

A 90 minute interactive workshop for beginners, covering essential techniques such as Beat Matching, Phrasing, Transitions, Scratching and more. Q&A session with Scratch Miami Instructors and special guests.
4:30 PM – Beats to Bucks: Making Money With Your Music

This panel of experts will explain the different kinds of revenue streams and how to maximize them. We will discuss Sales, Artists Royalties, Endorsements, Publishing and Mechanical Royalties, Synchronization, Public Performance Royalties, Streaming Royalties, YouTube, Soundcloud, Producer Packs, Neighboring Rights, Touring, Merchandising, Formats, Production Music Libraries and more.
Wednesday, March 25
12:30 PM – Get the Inside Track on Digital Distribution

This panel will explore every angle-legalities, exclusivities, accounting, inventory, encoding, sound quality and more. Internet labels offer distribution and in some cases marketing and promotion to unsigned and independent artists.
12:30 PM – Bridging The Gap: DJ & Live Musician

Come meet and speak with two accomplished musicians with over 30 collective years of live experience in assisting DJs in their pursuit of the perfect dance floor. Bopa King Carre, world class drummer/multi-percussionist and Gray Devio, Juilliard graduate/international electric violinist, have pioneered and perfected bridging the gap between the DJ and the live musician.
2:00 PM – Agents – Building A Great Team

Live gigs can be one of the most important ongoing money makers in an artist or DJs career which places agents and agencies at the top of the industry food chain. A great agent has the connections and vision and skills to move your career forward and keep it profitable. Do you need an agent and, if so, how do you connect with the agent that is right for you?
2:30 PM – Refried Beans: The Remixing Rut

How does one remain relevant and true to their sound and avoid falling into a remixing rut? Professional remixers need to arm themselves with current sounds and trends to stay current but also a staying one step ahead of the crowd. Having good business sense and a great team are vital! What are your options? What do you charge for a remix? What sort of contracts should be in place when striking a remixing deal? Should a remixer earn royalties on a remix? Learn do's and don'ts from the experts on this subject.
4:00 PM – The Recording Academy & WMC Present – The Producers Forum

The Recording Academy Florida Chapter, in conjunction with the Winter Music Conference, will present The Producers Forum. This panel will feature Grammy nominated electronic/dance artists, producers and remixers who will discuss the creative and business trends in the dance and electronic community.
4:30 PM – DJ Workshop Advanced:Techniques

A 90 minute interactive workshop for intermediate to advanced level DJs. This workshop covers advanced techniques such as Key Mixing, Live Remixing, Midi Controllers, Trick Mixing, Advanced Scratching and more. Q&A session with Scratch Miami Instructors and special guests.
Thursday, March 26
12:30 PM – How Legal is the Music Business? – Music Law 101

These attorneys will cover a number of popular music law topics including, but not limited to, "Record Deals", Publishing Agreements, Royalties, Licensing, Sampling, Downloading, etc. These attorneys will be available to answer any questions that you may have regarding law in the music business today.
2:00 PM – DJ Culture – Branding Of Cool

This panel provides an in-depth look at how DJ and Dance Music Culture is fueling pop culture and how its popularity is being amplified by brands, labels and advertisers.
3:00 PM – DJs, Producers and New Technology

Keep up to date with all the newest technology in our industry. Join us as some of your favorite Producers, DJs and Industry experts share invaluable knowledge on how they adapt and take advantage of new products and technology.
4:00 PM – A New Era: The Artistry and Business of the Global DJ

Learn from this accomplished panel of DJ elite and let them share their journeys, and the lessons learned, with you.
4:30 PM – Pioneer Demo – rekordbox 3.0 How It Works With All Platforms

Unlock the full potential of your CDJs and XDJs with rekordbox 3.0, Pioneer DJs music management software. rekordbox supports every aspect of DJing for a creative, hassle-free experience: from music management and set preparation to performance and set reviews. Learn about new features such as enhanced track browsing, 2-player mode, Sync Manager and Beat Jump, and see how rekordbox integrates with the new XDJ-1000 and XDJ-RX. This seminar will include an introduction to KUVO, Pioneer DJs social platform that connects clubbers, DJs and clubs around the world.
Friday, March 27
12:00 PM – Pangaea: The Global EDM Marketplace

Electronic dance musics growing popularity in emerging markets such as South America, South Africa, Asia, Caribbean and elsewhere has increased the fan base many times over giving rise to new opportunities for artist and industry advancement. Meet this international panel of industry experts as they discuss the movements and sounds that are boldly changing the geography of the EDM marketplace across the world.
1:00 PM – Remixing & Editing Workshop – Level 1

Would you like to interact with top studio producers, programmers and remixers? If you answered yes, then this panel is for you! Two half-day sessions are being offered: "Level 1" for beginners and "Level 2" for the intermediate/advanced. Attend one or both. An additional fee is required and you must be a registered delegate to attend. Space is limited and will sell out.
3:00 PM – Remixing & Editing Workshop – Level 2
3:00 PM – Social Media & PR

This panel of Social Media, Music Journalists and Public Relation specialists will help you decide if a professional PR person is right for you, if you should you go it your own way and , if so, how to go about it.
Saturday, March 28
2:30 PM – Indie Culture: Constantly Risking Absurdity

Unlike the commercial EDM monster, indie culture is constantly taking risks producing new beats, avant garde soundscapes and aural bliss. Nurturing creative artists, labels and remixers in the Indie Scene give rise to ever-expanding layers of new and old music formats revived with a sharp modern edge.
3:00 PM – Reckless Abandon: College Radio

The open format of college radio gives rise to a greenhouse of creative opportunities for pushing boundaries and nurturing innovation in music – while college radio jocks sift through an endless stream of submissions to shape the pioneering trends of tomorrow. College Radio Music Directors, Programmers and DJs get together and talk about shaping the sound of a station, how to represent your station to the industry and more.

To see the entire list, click here.