The International Dance Music Awards event (IDMA) last night was superb.
I would say it was better than the 2011 Academy Awards, but so was sitting in traffic, so I'll compare IDMA to a great musical review with commercial breaks between sets.
This does not mean there were no glitches. The interface between live presenters and videos of categories and winners was not always smooth. But the good humor of all involved minimized any discrepancies.
All the World's a Stage

The venue was Dolce (1501 Collins). Spacious with a beautifully appointed interior and a fairly standard New Age Buddhist-image theme, Dolce was close to perfect. It is fitting that the benign image of Gautama become the face of chicness in this age of grotesquerie, especially in uber-tacky extremes found in Miami. One example: among the hideous "fashion" outlets all along Washington Ave., I saw tragic commodification of the Roman Catholic rosary, including one that featured a skull where the crucifix should be. The very flower of trite blasphemy! Dolce was the other, prettier, side of the SOBE coin- if its interior designer were indeed pimping out the Buddha to attract fashionista dollars, at least every image (and there are some beautiful images) was respectfully situated and given proper lighting.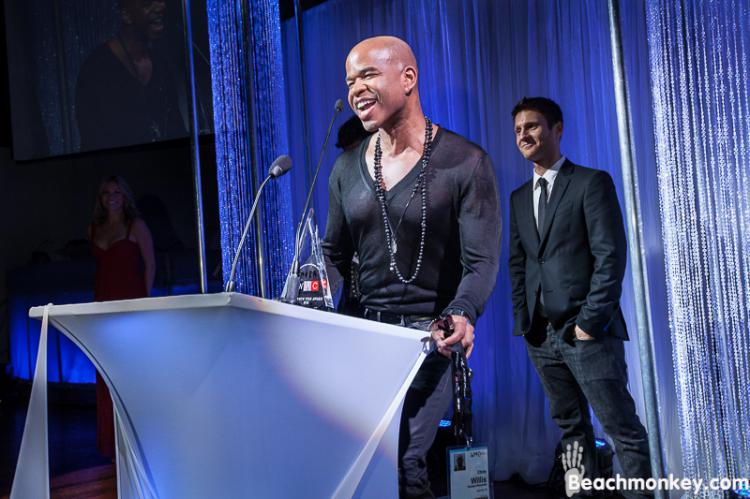 Kristine W was the silver-clad mistress of ceremonies, glorious and looking at least seven feet tall. In terms of being statuesque, Julie Newmar has nothing on her. Lee Dagger of Bimbo Jones was the primary DJ for the evening. He was not as shiny or tall as Kristine, but every bit as good.
The actual stage for the awards was simple, elegant, and practical. The ceremony kept a good pace, with a generous sprinkling of live singers backed up by DJs. Overall, the entertainment was top-knotch and classy, except when Dev and the Cataracs encouraged the crowd to channel Jersey Shore. For all their street cred, the Dev-Cat duo of Campa and Cyrano came off as techno-nerds with a proven talent for beats. Chris Willis gave us serious stage presence, but his live vocals were occasionally overshadowed by his recorded voice. In his sonic battle against his studio self, sometimes he lost.
Crystal Balls

Every live performer, every one of them, sounded great. The back-up dancers' choreographies (and outfits) were sometimes mildly confusing, but the dancers themselves were on. Performance occasionally blended with presentation. Jonathan Mendelsohn paired up with Crystal Waters to give an award, and he started out by serenading her a capella with the voice of an angel.
I asked him afterwards how he got the balls to spontaneously croon Crystal: "I was actually kind of intimidated by her," he said.
I have no complaints as to who got what awards, even when Rusko didn't win for best dubstep. I do not understand, however, how "We No Speak Americano" could be considered a Latin/reggaeton track, much less win the category. I would also suggest a separate category for deep house.
While mingling with industry people, I spoke at length with Eric Redd. EDM fans should watch out for this vocalist. Tall, smooth, and dreadlocked, Eric has been performing with California Transit Authority (CTA). He has also set his sights squarely on house music, so expect to hear more from him in the future. Check out his single "Breathe" on Carillo Music.
Township Jives

The biggest surprises of the evening were wonderfully non-American.
IDMA managed to shake things up, South African style.

One critique I've had of WMCs past has been the lack of true international flavor. So much tends to be left out altogether, from Brazilian drum and bass to India's bhangra house. It is as if the entire EDM planet marches to Dutch/French/Swedish/German house, old and new. Let me break the news to the fans of Tiesto, Armin, Afrojack, Guetta, etc. I love your boys, but there is so much more out there.
Bucking that trend has been deep house. Even then, the biggest share goes to American artists with Gospel roots. But IDMA managed to shake things up, South African style. DJ Black Coffee gave an award and performed at the after-party. A tall, slender, impeccably dressed man from Johannesburg, he is all about getting the South African sound out to the world. "I'm working with about four artists at home," he said. Check out his Deep house hit,"Never Saw You Coming" featuring Tshepo.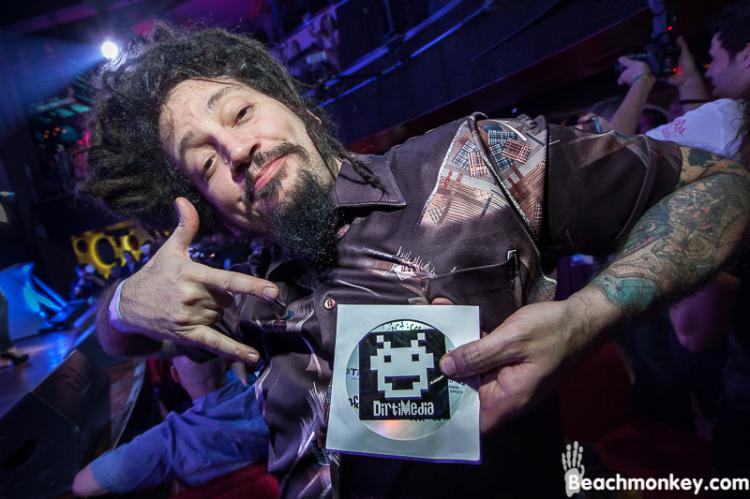 Along with Black Coffee was a South African favorite, Zakes Bantwini of Durbin, a firecracker on stage whose fine vocals and dancing set him apart from all others. I was fascinated and pleased- the International Dance Music Awards sounded truly international! Zakes said he brings "township jives" to his sound, and I saw it in his dancing as well. He was a breath of fresh air in an otherwise professional, polished, and predictable event. I asked him about influences in his music. Besides American jazz and funk, there are elements of other African artists as well. "We love Fela!" he said when asked about the late Nigerian superstar. With Zakes, the spirit of Fela Kuti lives on, updated and celebrated.
Black Coffee and Zakes are from the majority Zulu tribe, and they hope to open opportunities for other ethnic groups within their beloved country.
Touch Me on My Body

IDMA 2011 was also the debut of Katherine Ellis, a British songstress who, despite a string of consistently strong tracks (including the Circuit anthem, "Dreaming") has yet to develop a following in the America. She has worked with Bimbo Jones and the Freemasons. But the competition for attention among our people is tough, even more so for those not born on this side of the Atlantic, Kylie not withstanding.
Katherine won over a new set of fans last night with her live renditions of "Dreaming" and Freemasons' "When You Touch Me" (watch this video of a live performance in Britain). Charisma, humor and talent brought people to their feet, climaxing in a triumph for Katherine, her manager Stewart Eldridge (who was working the turntables for her), and Bimbo Jones' Lee Dagger and Mark JB. The four of them basked in her glory, a fitting moment for people who worked so hard to get the recognition they deserved stateside.
Last Word: Kristine W

IDMA is above the politics of the WMC/Ultra split. Proof was obvious last night when artists that could only perform during Ultra nevertheless won awards. But few if any who are on the 2011 Ultra performance roster were at IDMA to receive their due, although they were there in video. This noticeable absence was a touch of bittersweet in an otherwise positive evening. I do not believe it would have been the case if WMC and Ultra were still together.
I asked Kristine W about the split, and she sees a silver lining. "In the past, a lot less focus [during WMC] was on the music. This year, they were really into listening and learning." EDM is coming into its own, she said: Things are changing so fast. We used to say dance music was the music of tomorrow. Well, tomorrow is now."
I knew from previous interviews with Kristine that she supports live music as well as electronic. I mentioned that this year featured more live-electronic hybrid performances (not one was a total lip-sync) than I'd ever seen. "I've been trying to get everyone to do it!" she exclaimed, then told me about her kids who are learning to play musical instruments. Like Bosephus says, it's a family tradition.
That's it for now. I will have further updates as the week progresses.