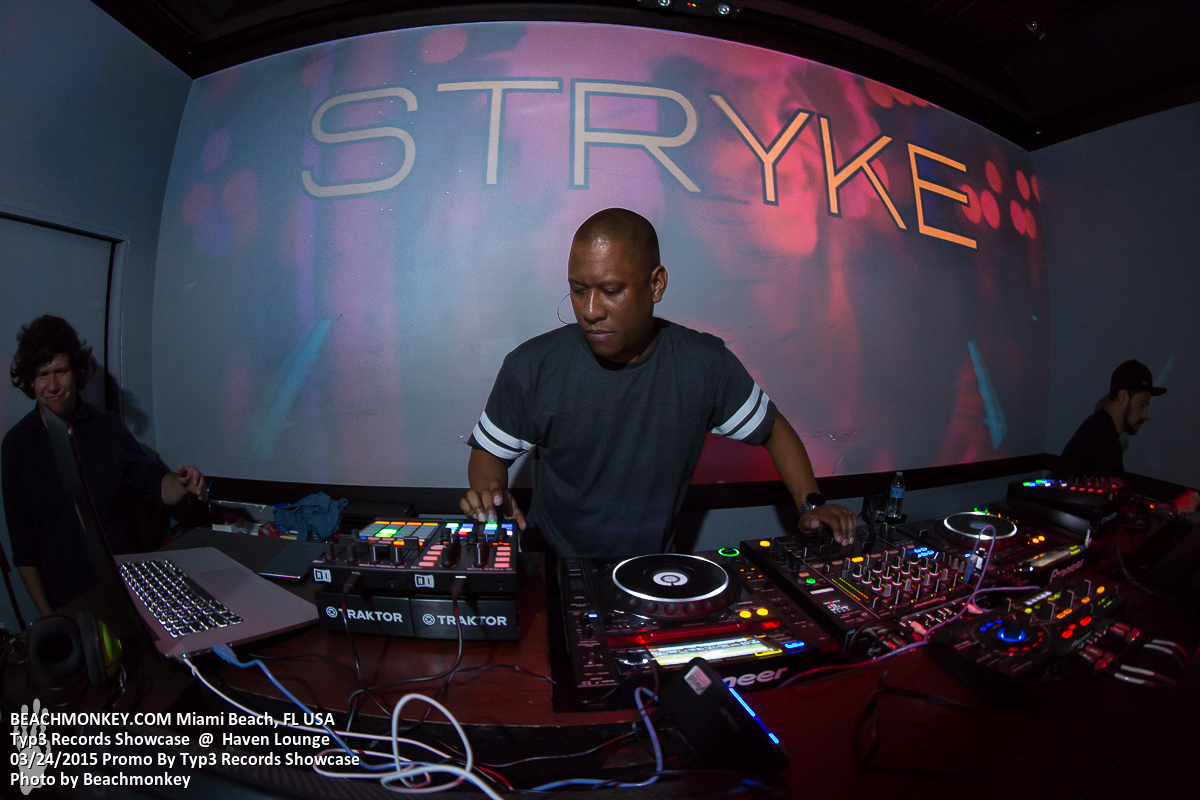 It was the first official night of the Winter Music Conference (WMC). We walked into Haven, a decent-sized club in SOBE, for the Typ3 Records Showcase. The walls on three sides were wrapped in videos that changed themes every few minutes – recent outdoor music festivals, adult cartoons, colorful expanding geometric designs – put together by Haven's creative director, Ricardo Agudelo. The effect was stunning.


Photo: Haven website, havenlounge.com. Initial photo: Beachmonkey – DJ Stryke in the center, RIcardo Agudelo (with beard and cap) to the right of him.
As dazzling the walls were, the music was even better. The Dj was playing techno house, layering tracks and building the intensity so that everyone was dancing. You know the DJ is on if, at 3 in the morning on a Tuesday night, even the club staff can't be still. That was our intro to Greg Chin, a.k.a. DJ Stryke.
You were totally impressive at WMC, DJ Stryke! Tell us about yourself, your style of DJing, and the company you are with.

I'm a Miami based Techno/House/Ambient/ music producer/DJ/music technologist. I normally record and perform under the name "Stryke", although I have a few other pseudonyms such as Ad Finem, Orchestra of One, Homebase (with Jorge DelRey), and The Azul Project. I'm also a spokesperson and music technologist for Avid, makers of Pro Tools. I have collaborated with some really great artists including: Murk, Oscar G, Santos, John Beltran, Christian Smith, and more. I've got releases on some great labels such as: Guidance, Ovum, Tronic, Nervous, Murk, Plastic City. I've also had the good luck to remix artists such as Nic Fanciulli, Danny Howells, Murk, Depeche Mode, and a ton of others. Other than that, I'm pretty much an average video game lover, husband to an amazing wife, foodie, and very amateur wine connoisseur.
To me, your sound that night had a strong progression that amplified the groove you set, but I'm not sure you'd classify your sound as "progressive." How do you describe your sound?

Progressive used to be such a huge sub-genre a few years ago. The way I know it, progressive house was kind of this mixture of house basics, mixed with more trance elements like big chords, arpeggios, and more epic-type textures. I've always been pretty much a no-nonsense techno and house guy. But some really great records under that sub-genre were created.
Not many people can do what you can do. Describe to us your technique.

Well, I started learning music when I was four as a piano player. When I moved to the States when I was ten, I discovered DJing and picked that up when I was 13. I pretty much have always blended my music creation abilities with my performance abilities. In the present time, the lines have now really blurred. My DJ performance is becoming more of a hybrid type set, where I'm remixing and rearranging my own songs (and others) live. My current setup consists of Native Instruments Traktor and Maschine software running on my laptop. To control Traktor, I use 2 X1s and an F1 to control a Remix Deck inside of Traktor. I've also got a Maschine hardware controller to create new beats, synths and other bits live, in sync with Traktor. Sometimes, I also add a couple of Roland Aira bits (TR8 and/or TB3). This setup changes quite a bit, as technology continues to push forward, something I love having a hand in.
When I saw you spin, I was reminded of Peter Rauhofer.

I was blessed to have known Peter. He is absolutely missed. I met him years ago at the record store I worked in at the time, Y&T Dance Music on South Beach. That store was kind of a hub for the Tribal/Twisted family of artists, so I got to meet Oscar G & Ralph Falcon (Murk), who became family to me, Danny Tenaglia, and Peter, of course. What I loved about Peter is that he was equal parts studio producer/engineer and DJ. He really took great pride in all of it. I loved talking to him about synths and studio engineering techniques. He was extremely passionate. I've always admired and tried to apply that equal parts work ethic and passion in my own career. It's always strange now at WMC not hearing a big Peter production. He was one of the kings of having that big WMC record.
What do you think of Haven?

I've had the pleasure of playing Haven a few times during WMC. I love the atmosphere created by the visuals and the setting. The sound is really good for a room that space and size as well. I think it's a different and dynamic space!
Chin is with Typ3 Records. His latest release on Typ3 is an EP: After the End.

To hear "After the End," "After the Dub," and "After the Acid," click here.
*